Precision Scheduling & Spatial Planning
Precision scheduling is the quantitative planning of forest management, using state-of-the-art spatially correct models. GIS maps, inventory data and growth projections are incorporated into the model so that harvests, wildlife management and other schedules are tailored to forest characteristics, ecosystem variables and tree location.
Interforest will custom design a model of a specific forest using a combination of digital mapping and optimization heuristics. Optimization heuristics allow a greater number of variables to be considered by the model in the most efficient manner. This is an important tool that allows our clients to balance multiple goals and constraints, and even to explore scenarios across multi-owner landscapes (e.g. for public-private partnerships). The result is a powerful analytical tool with a graphical interface that is easy to use and understand.
Some sample outputs are below - more are available in the following brochure:

Spatial Planning for Integrated Forest Landscapes (PDF 500k)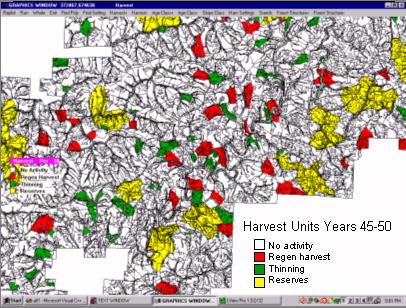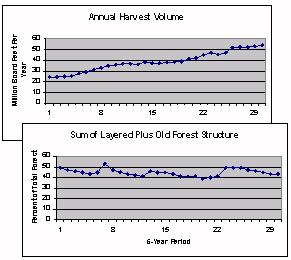 ---
Home | Services | Consultants

© Interforest LLC